Lansdowne (Hindi: लैंसडाउन) is a cantonment town in Pauri Garhwal district in the Indian state of Uttarakhand.
Lansdowne or Lansdown is a beautiful town and a popular hill station situated on the Kothdwar – Pauri road at a height of 1,706 mt in Uttarakhand, India. Lansdowne is located in the Pauri district of Uttarakhand, 45 kms from Kotdwar.
Places to see in Lansdowne
1) Garhwali Mess
2) Regimental Museum
3) Bhulla Tal
4) Tip-In-Top
5) Tarkeshwar Mahadev
6) St. Marry's Church
1. Bhulla Lake
1 kms from city center 1 out of 8 Places To Visit in Lansdowne
One of the most favorite picnic spots among locals and tourists, Bhulla lake is a well maintained serene lake made and maintained by Indian Army. Bhulla lake is loved for it's tranquil atmosphere as it is not much populate and there are ample boating facilities available here.
2. Tip N Top
1 kms from city center 2 out of 8 Places To Visit in Lansdowne
Tip N Top, also known as tiffin top, is a small hilltop viewpoint located 1.5 km from the main city of Garhwal. This is the best place to watch complete skyline, Shivalik range, panoramic Garhwal hills with majestic Himalayan range.
3. Darwan Singh Regimental Museum
0 kms from city center 3 out of 8 Places To Visit in Lansdowne
Named after Victoria Cross holder Darwan Singh Negi, it is a historical defense museum located near the parade ground in Lansdowne. This beautifully decorated two storey building has a collection of arms, uniforms, rarest photographs of army generals, certificates and details about the origin and achievements of Garhwal Rifles.
4. 

St. John's Church
1 kms from city center 4 out of 8 Places To Visit in Lansdowne
Located at the Mall Road this Catholic Church was built in 1936. The beautiful interiors and green surroundings of the church attract tourists and make it a must visit destination.
5. Kanvashram
23 kms from city center 5 out of 8 Places To Visit in Lansdowne
A gateway to Puri, Kanvashram is an ashram located on the banks of Malini river surrounded by thick forests and hillocks. It is believed that Shakuntala, the step daughter of Sage Kanvan gave birth to her son Bharath in this Ashram.
6. Tarkeshwar Mahadev Temple
10 kms from city center 6 out of 8 Places To Visit in Lansdowne
Located atop a hill at 2092 meters, Tarkeshwar Mahadev Temple is believed to be one of the ancient holy sites or SiddhaPitas dedicated to Lord Shiva. The Mahashivarathri festival draws a huge crowd from across the country.
7. Jungle Safari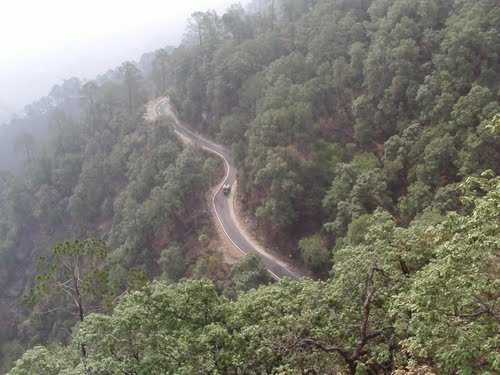 7 out of 8 Places To Visit in Lansdowne
If you would like to explore the wilderness of Lansdowne, many tour operators organize jungle safaris into the heart of the forests where you can catch a glimpse of Himalayan wild animals in their natural habitat.
8. Bhim Pakora
1 kms from city center 8 out of 8 Places To Visit in Lansdowne
Bhim Pakora can be reached after a 2km trek downhill on a rough path and the place is quite surprising as there are two big stones one above the other in perfect balance and while the stone can be moved with a finger it never falls down.